Stages of Entrepreneurship
Over the years, I've realized that there are several stages of Entrepreneurship.  I believe that within them there are several distinct characteristics that can be used to identify what stage of growth you are in.  The reason why that is important, is there are, (in my opinion) several benchmarks and steps that need to be taken in order to get to the next level.  
There certainly is some overlap with some of the stages as with most things related to growth; however, in understanding truly where you are in your entrepreneurial journey can help in being able to identify what you need to focus on and what kinds of engagements you need to avoid. 
In Part 3, we described the Manager and how important it is to begin finding ways to offload responsibilities and focus on what you need to do to continue scaling.
Let's move on to Stage 4
Stages of Entrepreneurship:  
Stage 4 – The Entrepreneur
The level everyone aims for – the coveted title of Entrepreneur!  For those that have started the journey and have made it to this level, they will understand why this is where the Entrepreneur within you really comes to life and the rest of the world can see it too!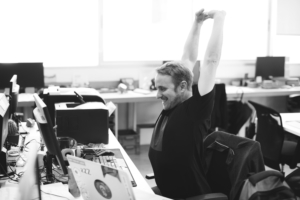 When you finally get this new stage, you will notice that you are able to focus on new endeavors without losing focus.  You will notice that you are able to take risks without feeling that you need to say, Yes to everything.  You will begin realizing that you have developed a company with efficiencies that allow scaling and more importantly allow you to maintain profitability.  Your visionary status is truly solidified, because you have not meddled in everything and have enabled your team to do what you initially hired them to do.
So what's the defining characteristic of an Entrepreneur?
For this individual, the answer is quite simple.  They oftentimes occupy their time doing one of a few things.  They are trying to maintain their visionary status, either in the market they now live in, or within the organization.  If that is not on their current agenda, then they are looking for the next big thing or challenge to take on.  This can be within their industry or something completely out of left field.  Lastly, the Entrepreneur may be looking for an exit.  Not that they do not enjoy making money, but they would like to honestly take a break!  And rightfully so. This can come in the form of a merger or acquisition or by passing the torch to someone else so that they can lead and you can enjoy the Wonder Years.
For those entrepreneurs and businesses that feel as if they are in this particular phase or are actively looking for a way to get to get to this level, feel free to contact Neon Blue; for 60 minutes, we do not mind having conversations about where you are, where you want to be and what you can do to get there.  Scaling without the risk has never been so easy.
Sign up for our Newsletter so that you can be kept up to date whenever new posts are made available!
[gravityform id="3″ title="false" description="false"]